Gemstone-studded jewellery has always been the trendiest talk of the town. This is a dazzling and timeless form of fashion adornment that has won the hearts of people for centuries. These pieces of jewellery feature precious gemstones in various types of metal settings, including gold, silver, and platinum.

In addition to their various colours, shapes, and sizes, they also carry a charming significance that adds to the appearance of precious jewellery. This includes fiery red rubies, deep blue sapphires, enchanting green-hued emeralds, and multifaceted diamonds. If your heart also falls for these, you can explore the Hazoorilal gemstone jewellery collection, which includes versatility in designs. From classic to solitaire rings, intricate necklace sets, bracelets, and earrings, you can accessorise your special event looks in a variety of styles.
How does Hazoorilal gemstone jewellery level up your fashion style?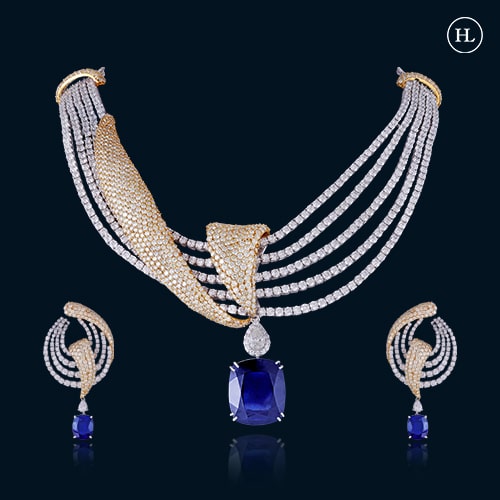 The craze for gemstone jewellery is rising to a great extent. Incorporating it into your everyday or special looks can make a lot of difference. Here are some of them; read on to learn.
● With the variety of designs and styles available, Hazoorilal gemstone jewellery can match your versatile preferences. For example, rubie-studded earrings or rings can be part of your official look.
● There are most celebrities and influencers who often opt for gemstone-studded jewellery like emerald on a gold base. Wearing such pieces would help you make a celebratory statement.
● There is a belief that wearing gemstone pieces contributes to the enhancement of overall human well-being and infuses positive energy into one's life.
● Visiting Hazoorilal Gemstone Jewellers can help you embrace versatility in your fashion styles. From bohemian and vintage to modern and minimalist, every concepted piece of jewellery can be part of your special occasions, like festivals, mehandi, weddings, and more.
What are the top gemstone-studded jewellery designs in trend?
There is a diverse range of options in gemstone jewellery, and what is considered "top" may depend on personal preferences, trends, and cultural influences. However, you can opt for the popular ones at the store of Hazoorilal Gemstone Jewellers in Delhi.
● Solitaire engagement rings feature the brilliance of diamonds on a simple band.
● Three-stone rings feature a combination of multiple gemstones in a single ring, adding depth to a unique style.
● Statement necklace sets having small diamonds in combination with coloured gemstones like rubies.
● Gemstone-studded drop earring pieces are also in a line for party looks.
In a nutshell, gemstone-embedded jewellery is a remarkable addition to fashion. You can even accessorise your multiple looks, including everyday or official outfits. You can explore an elegant collection at the store of Hazoorilal Gemstone Jewellers in India.